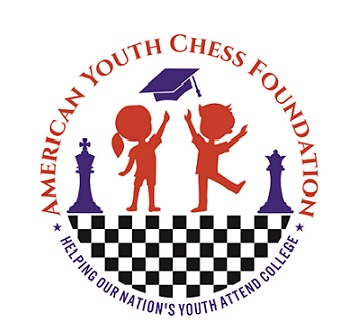 American Youth Chess Foundation


(Please click on above link to go to American Youth Chess Foundation webpage. You will see all Scholarship Tournaments, Information, How to Register, and Advanced Entries).

Tournament Dates:
2018 American Youth Championship
January 14-15, 2018
(With $2,500 in AYCF Scholarships!)
Majestic Garden Hotel, Anaheim, CA.
(Across street from Disneyland)


March 18, 2018 - 2018 American Stars Scholastic Championship
@ Atrium Hotel Irvine, CA.


May 12-13, 2018 - 2018 Dewain Barber Scholastic
(With $1,500 in AYCF Scholarships!)
Atrium Hotel Irvine, CA.


June 2018 - American Youth Chess Foundation Grand Championship
(With $5,000 in AYCF Scholarships!)
Renaissance Orlando at Sea World, Orlando, FL

2017 Final Standings
Hanley Chess Academy Awarded to Host National Tournament by United States Chess Federation!

2018 National Junior Chess Congress Info/Reg!
Coming Up Soon/
Taking Place Now!
2018 Morrison Scholastic
January 20, 2018 @ Ladera Vista Jr. Hi, Fullerton, CA.

Advanced Entries


HCA Over 1600 Swiss
Every Saturday Starting at 2pm @ Hanley Chess Academy


Format:
Any current USCF member who is rated over 1600 is invited to compete in this 3 round Swiss System tournament. Cash prizes offered. Games begin at 2pm and next 2 games start 5 minutes upon completion of previous game. Time Control is G/75; d5. Registration is by Friday midnight.

Special Recognition to HCA Students Who Passed 1500 USCF Rating!

Congratulations!:

Gordon McNeill
Eric Lu
Eric Phares
Artem Kiryukhin
Eric Gao
Marvin Lin
Justin Cha
Dylan Sun
Marcus Vasquez
Garret Liao
Jacob Lee


HCA San Jose Upcoming Tournaments
2018 National Junior Chess Congress
(A National Tournament!!)
March 9-11, 2018 @ BASIS Independent Silicon Valley

Advanced Entries